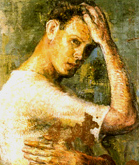 Self Portrait - 1959

Trevor Southey was born in Rhodesia, Africa (now Zimbabwe) in 1940. His African heritage can be traced to European colonists who settled in Cape Town, South Africa in the 17th century. In 1965, he emigrated to the United States, retaining an abiding sense of his African and British origins.

Southey's formal training includes two years at the Brighton College of Art in Sussex, England; a year in Durban, South Africa; and two degrees obtained from Brigham Young University (1967 and 1969). He taught at the University through 1977 and has since pursued his career independently, although he remains deeply interested in art education giving occasional workshops particularly in drawing.

In 1967, Southey married Elaine Fish of Utah. Their mutual vision and their four children became a vital and critical part of his life and work. For 15 years until their separation and divorce, together they evolved a personal sense of place and beauty in Alpine, Utah.

Environmental issues, especially relative to visual concerns such as urban planning, continue to command considerable attention from him. At it's most personal level this is reflected in his ever evolving garden where he retreats for a few minutes several times each working day.

Up until his move to California, where he currently resides in the Bay area, he had concentrated his professional experience in the Rocky Mountain west. However, even then and since his move, his work has commanded an increasing breadth and intensity of appeal.

Many major commissions in various parts of the country and Britain in painting and sculpture have dominated his production in the last few years, demonstrating the rapid growth of interest by an ever widening group of collectors. Southey's work is included in numerous private collections in the United States and throughout the world, ranging from that of actress Brook Shields to Senator and Mrs.Orrin Hatch. His work is also included in a wide variety of institutional and corporate collections.

His media include drawing, printmaking, painting, stained glass, and sculpture. He has been increasingly interested in writing and has collaborated with K. Mitchell Snow of Washington D.C. in the production of a major, lavishly illustrated volume about his work entitled Trevor Southey: Reconciliation.

Read more about Trevor