Saturday, October 23, 2010 10.PM SALT LAKE CITY

Well, it is over, the most spectacular couple of days of my career. How I wish I had been able to note in detail the dizzying pace and dazzling moments in many, many hours over the last few days. For months and in a couple of cases well over a year of endless effort, marvelous people, of extraordinary sensitivity and kindness, contributed inordinate amounts of time and resources to bring me to this moment, a lifetime retrospective of my work.

The enormous "great gallery" at the entrance to my show looked grand and so festive. A towering flower arrangement centered on tables covered with the most remarkable "high tea" spread, including large quantities of cream puffs in my honor! I only had time to eat three…they were not huge!!! I wish I had thought of having a guest book because there is no way I could begin to list the people that thronged both nights. On Thursday the number for the day was just under 1,400 for the general public opening, I understand close to a museum record. Sadly, as usual, there was time for just seconds with people, while others simply smiled and waved to me. Numbers of people came from both coasts and the south. Others came from closer neighbouring states.

My life's work and history was not only in the galleries where a brilliant friend and designer had contributed months of fine tuned design as guest curator, putting together a flawless exhibition, but in the throngs of people, former students, Alpine folk, several representatives of my former wife's family and E herself. I could not possibly express my surprise and gratitude for the depth and breadth of support from these and many, many I did not know.

The museum director, became so dear to me as she managed the endless details of the kind and cooperative museum staff. She had to almost drag me away from the many who wanted to talk into the auditorium where I was surprised by a huge warm applause. Another dear person, the head curator, who has been so steady in her vision for the show, was waiting to start a panel discussion. It was comprised of myself, Dennis Smith, Gary Smith and Neil Hadlock. We discussed what the museum had entitled Alpine Idealism. I fretted during the event because a couple of people nodded off, I could not hear everything the others said, and I did not want to appear to be hogging the stage. But it was apparently seen as very successful and interesting to the audience of standing room only. It is a shame that they had to turn away nearly two huncred. A moment came when we lauded the women of the group paying special tribute to our wives as the devoted friends and A helpmeets they were. Staunch old friend Dennis hit a "real" note when he spoke of the agony my wife and I endured when I came out, generating an enthusiastic response at his honesty. What an event.

Afterwards a large group was invited to be the guests of a couple who are such beloved friends at one of the top restaurants in the city, The New Yorker in a special dining area. It was here I had a chance to chat without the anxiety of thinking people were being neglected.

On Friday evening a large gathering of special invited guests and collectors came together for what for me was another glorious affirmation. There was more time to meet and greet but even here those moments were fragmentary because of the numbers. I felt so honored and respected and even loved by so many.

This time last night I was at an after event party in a restaurant downtown. I sat away from the crowds as my back was acting up but during the entire time I was visited by such delightful people, from sweet and well loved fans to serious collectors. The whole time all four of my beloved children kept checking up on me. I have never loved them more and been more proud of them.

Of course there is no way to ever thank the people who made this happen, tenacious and splendidly generous friends whose vision from instigating and pushing and curating the show, to the sudden and wonderful surprise of the large Salt Lake City Men's Chorus performed starting with God Save the Queen. Predictably innocent naïve me, I immediately beamed with joy as I assumed they were honoring my cultural heritage, only to chuckle happily through my tears when I realized which queen they were singing about. Their performance was glorious with a small selection of pieces that seemed so pertinent to the event. I was terribly emotional. But joy was my emotion to have my life and work so affirmed. Here I am weeks later still reliving moments and glowing.

Click Here To See A Brief Slideshow Of The Musuem Opening





Represented by Dabakis-Justesen Fine Art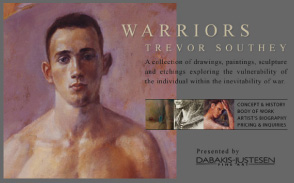 "A collection of Trevor Southey's art would be lyrical and compelling in the absence of commentary or written authorial musings. Interleaf the artist's own inward reflections..." - Robert Flynn Johnson

Buy the book


We'd love to hear from you should you have any questions or comments. For pricing on Printmaking and Sculpture download our price list. For pricing on Unique Works and Commissions please contact the studio.

Email: southeyart@trevorsouthey.com
Address: 5366 Leona Street, Oakland CA 94619
Phone: 510.530.2171

More information about commissioning art.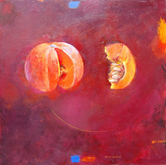 Pumpkin
oil on canvas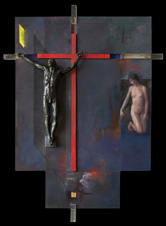 Dark Light
oil on canvas, bronze, cast resin

read some of Trevor's thoughts behind the creation of Dark Light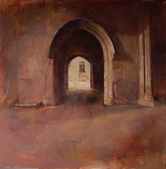 Abbey
oil on canvas (Sold)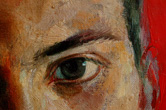 View the slideshow of the Warriors collection.



"I have just visited your web-page - yes! really! - And am struck dumb by your "Warriors" - even as displayed on a miserable little screen – the life-size real thing must be very powerful..."

"Prodigal Son," .... Readers' reactions caught editors Martha Bradley and Allen Roberts off guard..."

"I am continuously moved by your artwork on a level that I can not even comprehend. It is intoxicating..."

"I just wanted to tell you that I watched the short film of your clay rendering of St. Francis of Assisi. All I can say is Oh My God! It's one of the most beautiful things that I have ever seen. It is just going to be overwhelming when cast in bronze. Take care and be well."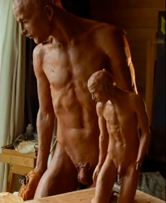 Assisi, view a slide show of clay production of the sculpture for the Cathedral of Hope, Dallas and video of production and dedication. Video courtesy of Cathedral and Shawn Northcutt, ICY Productions.

Click Here For Assisi Page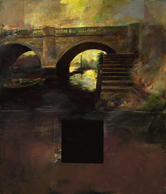 ... and the river god flew
oil on canvas


See Trevor on the FRONTLINE Special "the Mormons"

visit PBS's website and watch the show (chapter 22)

Related Work: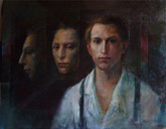 Joseph Smith- Three Views
oil on canvas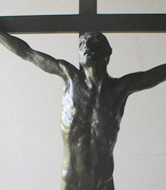 Crucified
bronze and steel

"New Bloom" on display at the Springville Museum of Art
15 Bytes article, "Eyes on Trevor Southey"
by Shawn Dallas Stradley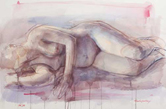 Drawing the Human Figure" This video features Trevor Southey working at his craft while discussing specific art techniques.